If you have kids in your life – whether you're a parent or grandparent – you may have considered adding some bunk beds to your home. While bunk beds definitely add some fun to your home, they also require some considerations that other furniture doesn't.
How to Buy a Bunk Bed: Things to Know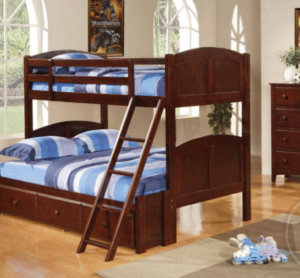 Ladders vs. Stairs Getting up to that top bunk can be a lot of fun – but it also needs to be safe. There are many ladder sets that are very sturdy but many caregivers find they feel more comfortable with stairs for young children. The ages of the people who will be sleeping in the room, how often they will use the bunk beds and how adventurous they are can help you choose what's right for you before you buy.
Ceiling Height Your ceiling height determines a lot about which bunk bed set you should purchase. You need to consider both the space between bunks as well as the space between the top bunk and the ceiling. In either case, you'll want to make sure that there's room for the person in the bunk to sit up without smashing their head every morning.
Rail Options Bunks beds have a wide variety of rail options – different heights, different numbers of rails. You can also find sets that have rails for both the top and bottom bunk or those with rails on just the top bunk. It can help to think through who you think will be sleeping where in order to know what types of rails work best for the bunk bed you buy.
Storage Solutions Many bunk bed sets come with storage in the stairs or below the bottom bunk. This may add to the cost but also provides extra storage space in what may be a room that could desperately use some storage solutions. It can also mean that the bunk beds take up a bit more space in your room. Knowing whether you're interested in having a bunk bed set with storage can make your shopping trip easier.
Future Use If you ever plan for your kids to have their own rooms in the future, you may want to purchase beds that can be stacked into bunk beds or separated as needed. Alternately, you may find that if you're just looking for a solution for occasional sleepover, trundle beds better suit your needs.
As with any furniture purchase, thinking through how you want to actually use the bunk bed set can help you find the right bunks beds to buy for your home, budget and lifestyle. And, as a gentle reminder, making sure you measure before you hit the store never hurts either.