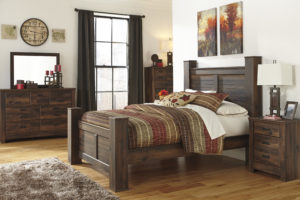 With the rise of Pinterest and other home décor sites, it may start to seem as though your bedroom has to be a luxurious oasis complete with Jacuzzi and two fireplaces. Your bedroom should be a place of rest and relaxation. But your bedroom doesn't need to be the size of a football field to achieve that goal. What does your bedroom really need in order to be functional, fun and relaxing?
The 4 Things your Bedroom Needs
A Bed It seems obvious but it's worth calling out that your bed is the single most important item in your bedroom. Your bed should give you plenty of room to rest. This is a great place to invest in your health. A good mattress and a bed you love can change how you sleep at night and ultimately how you feel during the day.
Night stands Night stands are a must in any bedroom. There should be one for every person who sleeps in the room (a side table can work instead, depending on your décor). Everyone needs a place to keep their stuff at night. It may sound silly but having a place to put your book or keep a glass of water can make your bedroom feel much more functional. Some nightstands even have drawer storage which can help you store books and projects while still keeping a clean, uncluttered bedroom.
Ceiling Fan Don't underestimate the power of a good ceiling fan. Ceiling fans can help regulate temperatures and keep air circulating and fresh. Bedrooms can become much more restful and serene by adding this one item. Using a ceiling fan to help you achieve your optimal sleeping temperature every night is a game changer.
Clothes Storage Clothes storage can be achieved many way – whether it's through a dresser, chest of drawers or a wardrobe. This can be a really decorative piece or simply something that's useful. Whichever style you choose, make sure that the number of drawers and/or hanging space meets your storage needs.
Your bedroom doesn't really need a formal sitting area, a chandelier or a TV viewing area. If it has any of those things, that's great. But the most important part of your bedroom is how you feel when you're in it. A bedroom that has too many unnecessary things can be overstimulating and prevent restful sleep. Make sure that you can get a good night's sleep by focusing on what your bedroom really needs.