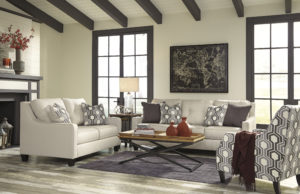 It's easy to look at all of the fabulous living room furniture featured on HGTV and Pinterest, and decide that your own home could use a refresh. What's not always as easy is deciding which pieces are right for you home. It's important to think about more than just form but function as well. If your living room pieces don't fit your lifestyle, it's easy to get hit with buyer's remorse.
Which brings us to a common pain point: how do you know if you need a loveseat? Would two chairs – or an ottoman with storage – be a better choice? We've got you covered as you contemplate your options. Here are some good indicators you need a loveseat:
3 Signs You Need a Loveseat in your Living Room
You Have a Lot of Space It's important to make sure that you have enough space to incorporate a loveseat. Before you get attached to the idea, make sure that if you put a loveseat in, you'll still have enough room to walk comfortably around the room. It's important to check and make sure that you can get up without bumping into the coffee table. Take the time to measure if you need – you should have a 2-3 feet of pass-through space on any side of a piece of furniture where you need to walk. If you pass this test, think about whether the loveseat fits into your lifestyle.
You Entertain Often If you frequently entertain, you need plenty of seating for everyone. A loveseat can offer more seating than adding a statement chair. Chairs require the same amount of pass-through space or more with less room for your friends and loved ones to relax and enjoy your home. If you entertain often, you may lean towards adding a loveseat rather than a chair.
Your Family likes to Stretch Out There's simply no sense in everyone fighting over the "good" part of the couch. Loveseats provide you the option to lounge (when you're not entertaining). If you're a family of people who like to stretch out, it makes sense to add a loveseat and decrease the number of fights you have over someone stealing your spot.
If you have the space, loveseats can be incorporated into any living room and look great. To determine whether or not you need a loveseat, it's less about style and more about making sure that the loveseat fits your lifestyle.