Sometimes, you walk into a furniture store and fall in love with a piece of furniture. Unfortunately, that does not mean that the furniture fits your needs. The fabric the furniture is upholstered in determines so much in terms of whether it will work for you or not. From durability to style, fabric often makes the furniture piece.
So how do you know which upholstery fabric is best for your needs? We find it helps to think in terms of use. The categories below can help you find which upholstery fabrics you should be looking for the next time you're looking for the perfect piece of furniture.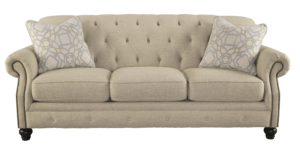 How to Choose Upholstery Fabric for your Furniture
Hard working If you need furniture that is easy to clean and will last a long time (this may be especially true in basements, play rooms and dens), you may want to look at an upholstery fabric made from synthetic materials. Acrylics and nylons can be cleaned again and again, aren't as likely to fade as some other fabrics and resist pilling. If you're looking for a natural fiber, cotton and wool can both be family-friendly if blended with other materials.
Luxurious Looking for a piece that makes your home feel like a castle? You might look at something upholstered in satin or leather. Leather is always a fan favorite – plus it can be easily wiped down with a damp cloth, meaning it looks great but can be easily cleaned. It's worth noting that these fabrics may require extra care or need to be replaced more frequently. Satin can fade easily, so be sure to place it where it won't be exposed to too much sunlight.
Comfortable Comfort can depend on a variety of factors and can be quite subjective. In general, the tighter the weave on the fabric, the more comfortable a person will find it. Plus, this will help the fabric to be more durable as well. It's a win-win!
Whatever upholstery fabric you choose for your furniture, make sure you've considered how you plan for the piece to be used before purchasing. A furniture piece you love should be a piece you can keep forever. Make sure that you're not setting yourself up for heartbreak. If you have questions, you can always contact us for more information. We're always happy to help.