Any quick Google search will yield hundreds of blog posts and online magazine articles relating to the topic of how to mix prints and patterns in fashion and in home décor. Many people can be timid when it comes to adding color and texture with patterns and prints in their homes, but it is the quickest and surest way to add visual interest to a room. If your favorite room could use a little refreshment, consider the tips below to add a few new patterned pieces to your pillows, window treatments, and rugs.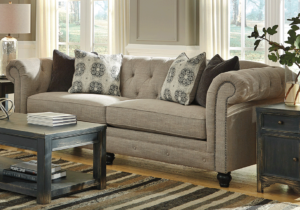 3 Ways to Mix Prints and Patterns in Home Décor
Mix prints, but coordinate colors: In order to add enough interest, designers recommend the rule of three. Less than three patterns can appear too symmetrical, and more than three too eclectic. With your three patterns, pick your favorite multicolored pattern and then choose two secondary patterns that pull an accent color from the first pattern. This way, the colors complement each other while still adding interest from the varying prints.
Mixing pattern type: If you are going to mix patterns, try to include different pattern types such as florals, geometrics, or animal prints. If you love botanical or floral prints, use two different of that type, but add a geometric pattern to shake it up. Having three different floral prints could be overload.
Vary Pattern Size: Now that you have chosen three different patterns, make sure the three items have different pattern sizes – one large, one medium, and one small pattern. Large patterns have fewer repeats than smaller patterns. For example if you have throw pillows with a medium floral pattern, an area rug with a large chevron pattern, consider adding drapes with a small geometric pattern.
Don't forget that you can also add texture to your room by adding solid colored items in different fabrics like faux fur, satin, corduroy, and so much more! Everyone has their own unique opinions and decorating taste. When it comes to mixing patterns, follow your heart and have fun with it. Take a chance on something new and see how it works out. Don't take any decorating rules too seriously. It's your home, and if you love it, that is all that matters.