If you have ever looked for a house to buy or rent, or searched through house floor plans, you have probably noticed that some layouts have both a living room and a family room. While both are considered living spaces, it can be confusing to determine the difference between these two and how they should be decorated. Looking into this topic can lead to more confusion than not, but it basically boils down to three main differences.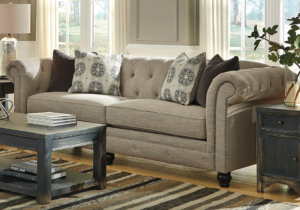 Living Room vs Family Room: 3 Differences
Location – When entering a home through the front door, the living room is usually closer to the front of the home than the family room. It is also generally close to or connected to a formal dining room. The family room is closer to the back of the home, near the kitchen, with an exit to a garden or patio.
Formality – A living room is the more formal of the two rooms. You will find seating for a few people, such as wingback chairs or a small loveseat, with décor that shows off the homeowner's sense of style and taste in art. A family room is a more comfortable, informal living space, for family and close friends to recline and relax after a long day. You will find large comfortable sofas with throw pillows and sometimes recliner chairs. Family rooms will often be decorated casually with family photos and mementos.
Entertainment – Because of its more formal nature, a living room would be a space for entertaining guests for drinks before a dinner. There may be music, but there is not usually a television. The living room is a room for talking with guests, as opposed to watching sports or movies, which normally takes place in the family room.
While these are three of the main differences usually found between living rooms and family rooms, all homes have their own unique layouts and may not fit into these categories. For instance, you may only have one living space on the first floor in addition to having a finished basement or finished room over the garage. In that case, you may choose to make the living space on the first floor your living room, even though it is closer to the kitchen than the front of the home. You might also decide that you do not have a need for a more formal living room and use that space at the front of the home for an office. There are no hard and fast rules for arranging your home, so however you decide to organize it will be perfect as long as it works for you and your family.