More and more people are living in a different city from their family and friends, and not everyone can afford to have a spare bedroom set up for when guests come to visit. It can also feel like a waste of space to have a dedicated guest room set up when it is only used a few times a year. Here are some alternatives that will allow you to house your guests along with the rest of your family when your visitors arrive.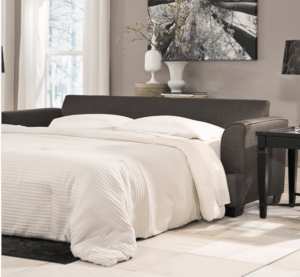 3 Types of Guest Room Beds
Trundle – A trundle bed is a low bed on wheels that can be stored under a larger bed. This type of bed is perfect for children when having a sleepover with friends. If one of your children has a larger bed, such as a full or queen, your adult guests could sleep in their bed, while the child sleeps in a sibling's room on their trundle bed. When the guests leave, the trundle bed simply rolls back under the bed and out of sight!
Murphy – A Murphy bed is a bed that can be folded or swung into a closet or wall recess when not in use. These types of beds are great for keeping in an office or recreational room that isn't a dedicated guest space. When guests come to visit, simply lower the Murphy bed down from the wall, add linens and a bed side table, and voila: you have a guest room!
Sleeper Sofa – If your home does not have an extra room in which to add a trundle or Murphy bed, a sleeper sofa is your best bet. A sleeper sofa is a couch, usually in your living room, that folds out into a bed. Sleeper sofas have a reputation for not being very comfortable to sleep on, but manufacturers have made great strides in improving their mattresses. If all else fails, an inexpensive foam mattress topper can be used to add a little extra cushion.
These options are great for people who don't have an extra bedroom to spare, but can also be used by those who do. Think about all the things you could do with that guest room instead of leaving it empty most of the year. You could add a small home gym, a craft room, or a playroom! The possibilities are endless. Take a look at your options and decide what works best for your family and guests!