The use of a headboard attached to a bed has been traced all the way back to the Pharaohs of Egypt and can be seen in use throughout history. Headboards were used in Medieval times to provide a barrier between cold, drafty outer walls and the people sleeping inside. While this is not much of a concern for us in this day and age, a headboard is still very important to the aesthetic and comfort of our bedrooms. Here are some things you need to know about headboards before choosing the right one for yourself.
3 Things to Know about Choosing the Right Headboard for your Bed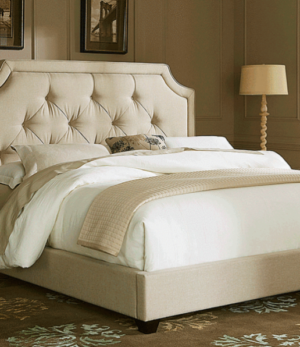 Size – The question you need to answer first and foremost is how much headboard your room can handle without looking crowded. Most headboards extend three or four inches on either side of your mattress. If a queen size mattress is barely fitting in your 12' x 13' Master, a large four poster headboard with canopy may overwhelm the space. Check the dimensions of your room and bed carefully before deciding on any headboard.
Style – The main purpose of a bedroom is for sleeping, so the bed should be the focal point of the room. What better way to create more of a visual impact than with a headboard? There are so many different styles including everything from warm traditional wood to cool wrought iron headboards. Take your time to shop around and find the perfect set that matches your style.
Comfort – Do you sit up in bed to watch television? Maybe consider an upholstered headboard. Are you an avid reader? Choose a headboard with a built in bookshelf. How close to the mattress does the headboard attach to the bed frame? Is there a large gap where a pillow could fall through? These are some questions you need to ask yourself in order to be as comfortable as possible in your bed.
Your bedroom should be a retreat: calm, peaceful, and beautiful. It is your place where you can let go of the day's stress and rejuvenate for the day to come. Adding the right headboard to your bed can enhance the atmosphere of your room and improve your sleep. There are countless options for you to choose from, but if you take the time to find the right style, size, and comfort level of your headboard, you will not be disappointed!