Ask and any contractor will tell you that a bathroom remodel can easily be one of the most expensive updates you can do for your home. However, there are many do it yourself projects you can do to give your bathroom clean modern look.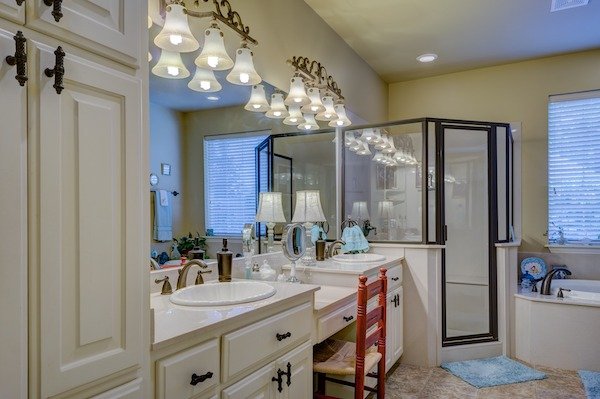 6 Affordable Bathroom Updates
For starters, let's take a look at those old water stained wood cabinets. Bathroom cabinetry can easily be cleaned and painted with special cabinet paint. Some of these newer paints don't even require a primer, which makes this project even faster. You can also swap out new hardware for the old rusted hinges and knobs for your cabinet doors and drawers
If you have a vintage, faded or unsightly linoleum or tile flooring, this too can be painted over with a thick specialty paint. This is a fast fix that will cost less in time and money than pulling up and redoing the flooring yourself. If you're worried about scuffing up your newly painted floor, use area rugs to prevent marking it up.
If your bathtub or shower pan is old and stained, and scrubbing, bleaching and cleaning won't make those stains budge, it's time to try painting it. Believe it or not, there are special resin paints you can purchase at the hardware store that are meant to be used as a sealant from water for old bathtubs.
Are your light fixtures and faucets still a bright brass finish? This can easily be fixed by swapping out the faucets for new ones. You can purchase them online or in a hardware store. As for the lighting fixtures, those can be removed, cleaned and spray-painted with a color of your choice for an updated look.
Finally, if you have the standard giant wall mirror in your bathroom, you can update the mirror at a very low cost with just a few wooden boards. Measure the length and width of your mirror, cut wooden boards to fit around the edge like a frame. Then paint or stain the wooden boards to your liking. The boards can be glued on using fast drying builder grade glue.
Try any or all of these do-it-yourself projects to update your bathroom for an updated look. Don't forget to add the small touches like new towels, artwork for the walls, and pretty soaps and lotions for the bathtub.