Area rugs aren't just for wiping your feet anymore. With so many affordable styles, colors and sizes, there are lots of decorative and functional ways to use area rugs in every home.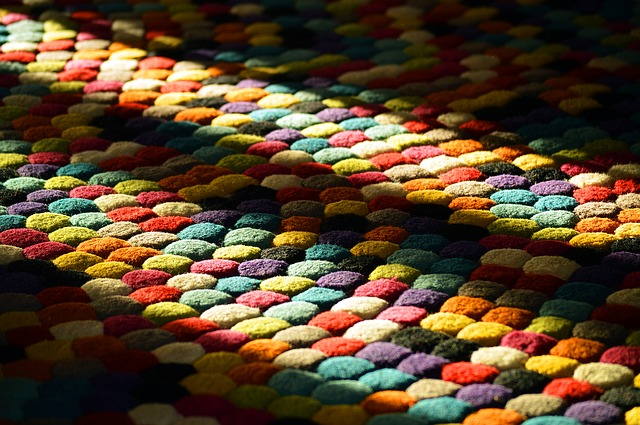 How to Decorate with Area Rugs
Starting with the front porch, an entry mat can be welcoming to guests and give curb appeal to your home. Try a bold color or mat with welcoming words or monogram. Entry mats are affordable and can be changed out for different holidays or seasons.
A hallway runner can save your floors from wet or dirty shoes. Lay a runner in your entry hall, foyer or mudroom to soak up snowy or rainy messes. Go for a darker color or pattern so dirt doesn't show. These can usually be washed on occasion, but be sure to air dry them for longevity.
No one wants to spill food on a rug, however, a small area rug in the kitchen at the base of your sink is a must. If you can find one with added cushioning, this will save your feet and back when doing dishes. Make sure it washes easily as it's sure to get dirty often. Kitchens are heavy traffic and spill zones. Choose a pretty rug that matches your hand towels and decor, and it just might make doing those dishes more pleasant!
Bath mats are a great combination of function and fashion. You can stick with solid colors, or find beautiful designs that incorporate your bathroom decor. These are usually durable enough to stand the heavy duty wash cycle and the heat of your dryer.
Large area rugs can really anchor a room, especially if you have an open concept floor plan in your home. For example, a great room can hold your dining area, formal sitting area, and a television/family area. In order to break up the different spaces in the great room, you should use large area rugs to create the feel of separate rooms. You could place an easy to clean or stain resistant rug under your dining table where crumbs and food might spill. Adding a thick ply rug with a cushion pad underneath to your television/family area creates warm, cozy flooring to sit or lay on. A formal sitting area can withstand a more delicate rug as this space will have less foot traffic.
Finally, you don't need to have wooden or tile flooring to incorporate area rugs throughout your home. Using area rugs can be helpful in keeping carpeted flooring from getting dirty and worn by covering high traffic areas.
Decorating with area rugs in the home is both functional and beautifying because they clearly define a separate space in an open floor plan, they keep water and debris from being tracked throughout your house, and they add color and life to your home decor.